Hotel Info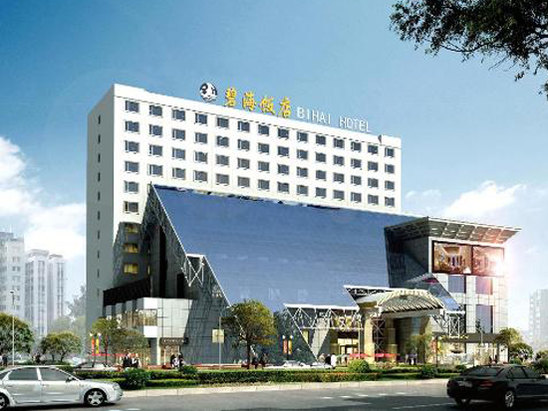 Yantai Bihai Hotel
is located in the economic and cultural center of Yantai City, opposite to Wanda Plaza, Yantai Cultural Center, and surrounding Joy City, Zhenhua Shopping Center, and banks.
Wuzi Hotel can quickly drive to the railway station, coach station, Yantai Port, and provides a dedicated bus directly to the airport every day for convenient travel.
Here is a business hotel that integrates guest rooms, catering, conferences, leisure and entertainment. The minimum guest room is 25 square meters. The elegant space is equipped with living room, work desk, single-control heating and cooling air-conditioning system, refrigerator, minibar, international and domestic long-distance direct dial telephone, high-speed Internet interface, WIFI wireless network and other facilities. Receiving cable channels for hours, letting you arrange your leisure time wonderfully.
The hotel has 4 special restaurants and bars. The rich and elegant Mingzhu Restaurant offers classic Lu cuisine, Hunan cuisine, Sichuan cuisine, let you enjoy the flavors of local cuisine. The modern and stylish Yuntian Restaurant has a Chinese and Western buffet breakfast and Yantai's local fresh seafood. Enjoy authentic Japanese cuisine with natural colors, delicious flavors, various shapes, and excellent utensils. Bamboo restaurant is your best choice. Colorful and delicious Korean dishes and Korean skewers can be found in Japanese tribal restaurants. As night falls, you can also step into the dimple bar on the 3rd floor, and enjoy a sense of pottery and joy in the slow motion and shallow singing.